When you have a kid, you find yourself trying (unsuccessfully) to reason with them.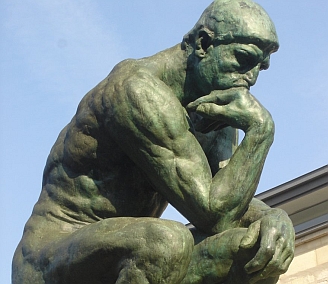 There's an old stereotype that men are rational and women are emotional. While this isn't universally true (obviously), it seems to hold up in the microcosm of parenting. At least the men are rational half of it, as this post will demonstrate (or disprove, depending on how you look at it).
Steph and I were at a gathering last week with friends, including two other new parent couples. The other fathers (Kazi and Stuart) and I were sharing parenting stories, when the subject of reasoning came up. As it turned out, all three of us had tried reasoning with our babies in a desperate attempt to get them to sleep, calm down, or stop crying. Intrigued, I thought I would share our stories with you all.
My attempts to rationalize with A. tend to go something like this:
"A., why are you crying? Mommy just fed you, so you can't be hungry. And I just changed your diaper, so you're definitely not wet. There's really no *reason* for you to be crying. Isn't that right, baby girl? You can't just be fussy for fussy's sake!"
Kazi goes through something similar after picking up his son M. from his parents, who watch him a couple of days a week. Although he's fine during the morning commute, M. will cry pretty much the entire 30-minute drive home. As a result, Kazi finds himself trying to calm M. down by saying things like:
"It's ok buddy, we're almost home. There's a breakdown at exit 16, which is *why* it's taking so long."
Or,
"It's just Red Sox traffic, we'll get past it soon."
Of course a five-month-old infant is incapable of understanding the nuances of rush-hour traffic, but it helps Kazi deal with the stressful cacophony of crying baby and honking horns.
Stuart's reasoning skills are most often employed when attempting to lull his daughter J. to sleep, as the following (one-sided) conversation illustrates:
"I see you rubbing your eyes. I see you yawning. You are tired. You need to sleep. Instead, you decide that the best course of action is to flail your arms and feet, and cry. At this point you have reached the maximum tired phase known as 'over-tired'. The solution? Sleep. That's all you have to do. Just go to sleep. Do not flail, do not collect $200, go straight to sleep. I don't *understand*."
Now, every proud papa likes to think their kid or baby or fetus is advanced. But to think they will listen to reason at an age when they have no control over the most basic bodily functions is downright irrational--and a little loony. Yet we try anyway. Why? Perhaps because in scenarios where we have essentially no control, logic and reasoning give us the temporary illusion of control.
How have you tried to reason with your baby?